Fronius Hybrid Inverters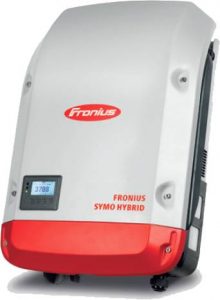 Fronius hybrid inverters come in a range of sizes from 3kW – 5kW to suit many applications. Their range of Symo hybrids are 3 phase meaning they are perfect for small businesses and larger homes that require battery storage. These hybrid inverters can be AC or DC coupled with or without emergency backup capabilities to suit any new or existing installation. When charging the batteries from solar there is no DC-AC-DC conversion process meaning the charging efficiency is optmised. Fronius hybrid inverters range are the most comprehensive three phase battery solution available in the market.
Compatible Batteries:
Fronius Solar Battery
Tesla Powerwall
LG Chem HV (Soon)
BYD Bbox HV (Soon)
Features:
Backup functionality in case of blackout
AC or DC coupling to suit any new or existing installation
Time of use battery discharge settings to maximise savings
In-built DC isolator
10 year warranty
Excellent technical support team located in Tullamarine, Victoria
LCD and LED display
Intelligent MPPT Technology
High Efficiency for PV-Battery-Grid
---
Pricing
---
Monitoring and Export Limitation
With a built-in web server all Fronius hybrid inverters come with monitoring capabilities out of the box and can be connected to wifi or hardwired. Using Fronius' own Solar.web interface all current and historical generation information is available. Fronius also offer a smart meter that expands the monitoring capabilities to include consumption information. This gives a comprehensive overview of usage patterns allowing the owner to identify potential energy saving methods and maximise solar consumption. It also allows for detailed information when sizing up a suitable battery bank.
The solar meter for Fronius hybrid inverters also allows for fast control of export to comply with distributor's limited or zero export requirements throughout Australia. With Class 1 accuracy this is the easiest and most cost effective export limitation configuration on the market.
For more information about the solar meter and other Fronius accessories please check out our range of monitoring accessories.
---
Suitable solar panel options can be found at our Solar Panels page. Information on compatible batteries can be found in our Solar Batteries section.
Datasheets for all Fronius hybrid inverters are available in our Downloads Section.
Or for more information please feel free to CONTACT US.
Specifications:
Item

Symo Hybrid 3.0-3-S


Model

DC Input Data

Maximum DC Input Power

Nominal DC Voltage

Maximum DC Input Voltage

Max DC Input Current Per MPPT

MPPT Range

MPPT Trackers

1


AC Output Data

Nominal AC Output Power

Output Voltage/Frequency

V / Hz


Nominal AC Output Current

4.5


Maximum AC Output Current

Total Harmonic Distortion

Battery

Max Charging Power

W


Max Discharge Power

W


Efficiency Data

Max Efficiency (PV ~ Grid)

EU Efficiency (PV ~ Grid)

Efficiency (PV ~ Battery ~ Grid)

Environmental Data

Ambient Temperature

Relative Humidity

0 ~ 100


Altitude

Mechanical

Size (H x W x D)

Weight

22


Cooling

Protection

Communication

Comm Interface

Display

Certification

Grid Standard

VDE0126-1-1, VDE-AR-N 4105

Safety

EMC

EN 61000-6-2, EN61000-6-3, EN61000-3-3, EN61000-3-11, EN61000-3-12

Warranty

10 (Standard) / Extendable to 15 or 20 years