PrimeVOLT Solar Inverters

PrimeVOLT Solar Inverters – Designed for Commercial Installations

PrimeVOLT solar inverters are top quality inverters designed and manufactured in Taiwan. Due to their quality and reliability the entire range of PrimeVOLT solar inverters come with a 7 year standard warranty.
Sustainable Solar Services stocks the entire three phase range of PrimeVOLT solar inverters as well as all optional accessories and components.
Advantages of PrimeVOLT solar inverters:
10kW to 30kW sizes available
7 year warranty as standard (upgradeable to 10 or 15 years)
Designed and manufactured in Taipei, Taiwan
Lightweight for easy installation
Local warranty and technical support team
Max & Euro Efficiency: 98.3% / 98.1%
Integrated  Data Logger
Ethernet and Wi-Fi connectivity options
Web Portal for remote monitoring
IP65 rated for outdoor installation
Easy to read LCD screen and user interface
---
Pricing
---
System Monitoring
All PrimeVOLT solar inverters have an integrated web server and datalogger. Remote online monitoring can be achieved via wired or wireless connection (optional US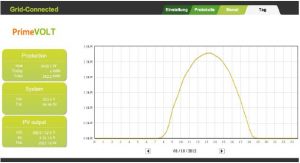 B wifi dongle). Comprehensive online monitoring is available through PrimeVOLT's system monitoring portal. Daily, weekly, yearly and historical generation can be viewed as well as any system errors that have occured.
---
For suitable solar panel options check out our range of Solar Panels.
Datasheets for our entire range PrimeVOLT solar inverters are available in our Downloads Section.
Or for more information please feel free to CONTACT US.
---
Specifications:
Item
Input (DC)

MPPT Working Range

MPPT Range (Full Load)

Start-Up Voltage

260


Max. Voltage

Max. String Current


10 x 2


20 x 1/ 10 x 1


30 x 2


Max. Short Circuit Current Isc

14 x 2


28/ 14


42 x 2


MPP Tracker No.

2


2


2


2


Output (AC)

Nominal Power

Nominal Voltage/Frequency

Maximum Current

Efficiency

Max. Efficiency

Euro- Efficiency

General

Temp. Range

Topology

Protection

Humidity

0 ~ 100, Non-Condensing


Cooling

Forced Air-Cooling


Features

Display

RS485

Wi-Fi

Data Logging

Mechanical

W x H x D

467 x 485 x 306


Weight

24


27


48


Input Pairs

DC switch

Certification & Regulation

Grid Monitoring

VDE 0126-1-1/A1, VDE-AR-N 4105, G83/2, G59/3, PEA, MEA

Safety

IEC 62109-1, IEC 62109-2, AS/NZS 4777.2:2015


EMCEmission

EN 61000-6-3/-4, EN 61000-3-2, EN 61000-3-3

EN 61000-6-3/-4, EN 61000-3-11,EN 61000-3-12, AS/NZS 61000.6.3

EMC Immunity