Fronius Solar Inverters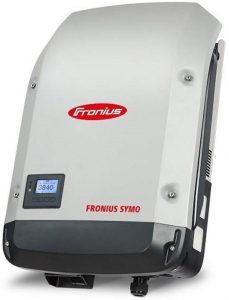 Fronius solar inverters are designed and manufactured in Sattledt, Austria and are recognised as some of the most reliable, feature packed inverters in the world. Fronius have been manufacturing solar inverters for over 25 years and have been in business since 1945.
The latest SnapInverter range including the Galvo, Primo, Symo and Eco series have been designed from the ground up to include the most complete set of features and ease of installation available in the market.
Features of Fronius solar inverters include:
In-built DC isolator on all models
10 year product warranty as standard
In-built web server and wifi monitoring
IP65
SnapInverter for easy installation and commissioning
Energy management relay to directly control loads
I/O pin block for customisable options
LCD screen for all information at your fingertips
Multiple input pairs per MPPT meaning no combiner boxes
Excellent technical support team located in Tullamarine, Victoria
Monitoring and Export Limitation
With a built-in web server every Fronius solar inverter comes with monitoring capabilities out of the box and can be connected to wifi or hardwired. Using Fronius' own Solar.web interface all current and historical generation information is available. Fronius also offer a smart meter that expands the monitoring capabilities to include consumption information. This gives a comprehensive overview of usage patterns allowing the owner to identify potential energy saving methods and maximise solar consumption. It also allows for detailed information when sizing up a suitable battery bank.
The solar meter for Fronius solar inverters also allows for fast control of export to comply with distributor's limited or zero export requirements throughout Australia. With Class 1 accuracy this is the easiest and most cost effective export limitation configuration on the market.
For more information about the solar meter and other Fronius accessories please check out our range of monitoring accessories.
Suitable solar panel options can be found at our Solar Panels page.
All Fronius solar inverter datasheets are available in our Downloads Section.
Or for more information please feel free to CONTACT US.
Specifications:
Item

Galvo 3.0-1


Primo 5.0-1 Aus


Symo 10.0-3-M


Eco 25.0-3-S


Input (DC)

MPPT Working Range

165 ~ 550


80 ~ 800


MPPT Range (Full Load)

165 ~ 440


Start-Up Voltage

Max. Voltage

Max. Current

27/16.5


44.2


Max. Short Circuit Current Isc

29.6


40.5/24.8


66.3


MPP Tracker No.

2


1


Output (AC)

Nominal Power

Voltage

230


Maximum Current

14.5


21.7


36.1


Efficiency

Max. Efficiency

Euro- Eta

General

Temp. Range

Topology

Transformer


Protection

Humidity

Cooling

Features

Display

LCD Screen


RS485

Included, uses Modbus TCP Sunspec


Wi-Fi

Data Logging

Mechanical

W x H x D

431 x 645 x 204


431 x 645 x 204


510 x 725 x 225


Weight

21.5


34.8


Input Pairs

3


4


6


6


DC switch

Certification & Regulation

Certificates

AS4777.2, AS3100, IEC62109-1&2, IEC 61727, IEC 62116, G83, G59, DIN V VDE 0123-1-1/A1, VDE AR N 4105