Solar Inverters

Grid Tie Inverters – Single and Three Phase

Sustainable Solar Services is the exclusive distributor for PrimeVOLT solar inverters in the Australia and New Zealand market. Designed and manufactured in Taiwan alongside other renowned solar manufacturers Delta, Winaico and AU Optronics, PrimeVOLT solar inverters are excellent quality products tailored to commercial installations. We offer PrimeVOLT's range of three phase inverters with sizes between 10 and 30kW. More information on the advantages of PrimeVOLT solar inverters can be found on our PrimeVOLT product page.
 What we offer
At Sustainable Solar Services we offer only premium solar inverter ranges from manufacturers with proven reliability and quality. With sizes starting from 23oW (Enphase microinverters) up to 33kW (Zeversolar) and every size in between we have an inverter to suit any project requirement or budget. All inverters have a minimum of 5 year warrantry with all Fronius and Enphase solar inverters including a 10 year warranty as standard.
We currently stock the following ranges of solar inverters:
Due to our supplier arrangements we are able to source other inverter brands, please Contact Us if your preferred inverter brand is not listed
Further information is available on our manufacturer product pages or datasheets are available in our Downloads Section.
For more information or special product enquiries please Contact SSS.
---
Solar Inverter Monitoring
All inverters stocked by Sustainable Solar Services have monitoring options available with most having this functionality built-in as standard. Our team of trained engineers can assist in monitoring setup and questions at any time. Monitoring is useful for a number of reasons including: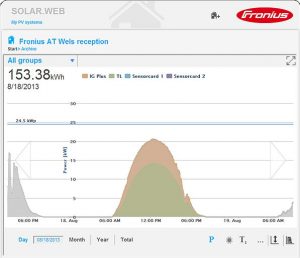 Checking system performance
Analysing consumption patterns (when a compatible smart meter is used)
Sizing battery requirements in future
Immediate communication of system faults via email or SMS
Marketing purposes for commercial systems
For more information on monitoring options please see the individual inverter product pages or check out our range of monitoring accessories.
---
About Solar Inverters
Solar inverters are the core component of the solar system. They convert the energy generated by the solar panels into a usable energy format by the loads in the building. Inverters consist of complex power electronics designed to maximise energy production from the solar panels. It is essential to install high quality solar inverters as they are the component of the system that is most prone to failure. With solar systems expected to last a minimum of 25 years inverters with long warranty timeframes should be the preferred option.
For more information or special product enquiries please Contact SSS.