Zeversolar Inverters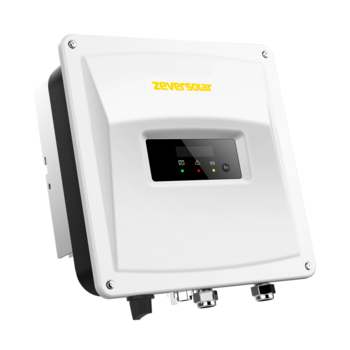 Zeversolar are a subsidiary company of the renowned German SMA brand and as such their solar inverters are manufactured and tested to the same high quality standards. The Zeverlution series comes with built-in wifi connectivity and are extremely easy to install with the range weighing only 7.3.kg.
Sustainable Solar Services stocks the entire single and three phase range of Zeversolar inverters as well as all optional accessories and components.
Advantages of Zeversolar inverters:
1kW to 33kW sizes available
5 year warranty as standard (upgradeable to 10 or 15 years)
Designed and manufactured to German standards
Extremely lightweight for easy installation
Local warranty and technical support team in Melbourne
Sunclix connectors for seamless DC wiring
Built-in Wi-Fi connectivity
SolarCloud web platform for remote monitoring
IP65 rated for outdoor installation
For suitable solar panel options check out our range of Solar Panels.
All Zeversolar inverters datasheets are available in our Downloads Section.
Or for more information please feel free to CONTACT US.
Specifications:
Item

Zeverlution 1500S


Zeverlution 5000


Evershine TLC10000


Zeverlution Pro 33K


Input (DC)

MPPT Working Range

70 ~ 450


100 ~ 520


MPPT Range (Full Load)

70 ~ 450


Start-Up Voltage

80


Max. Voltage

Max. Current

11


15/11


34


Max. Short Circuit Current Isc

11


11


15/11


34


MPP Tracker No.

2


2


Output (AC)

Nominal Power

Voltage

230


Maximum Current

7.5


21.7


48


Efficiency

Max. Efficiency

Euro- Eta

General

Temp. Range

Topology

Transformerless


Protection

Humidity

Cooling

Features

Display

LCD Screen


RS485

Included, uses Modbus


Wi-Fi

Data Logging

Mechanical

W x H x D

346 x 346 x 132


341 x 395 x 172


405 x 498 x 255


Weight

7.3


11


25


Input Pairs

1


2


3


8


DC switch

Not included


Certification & Regulation

Certificates

AS4777.2, AS3100, IEC62109-1&2, VDE AR N 4105